Help us improve our Youth Clubs!


All of us share something great here - a vibrant and important connection to our community. To keep it strong and healthy we have to take care of it, which means taking care of each other. We'd like to take the time to hear from you on how we can enhance and improve our Penny Savers and My2Cents Clubs to better serve our youth.

Please email Melissa Dandridge at

dandme@penair.org

to sign up to be a part of the Focus Group. The email should include your full name, member number, phone number as well as the day of the week and time that works best for you to participate in the focus group.

We look forward to hearing from you, our member!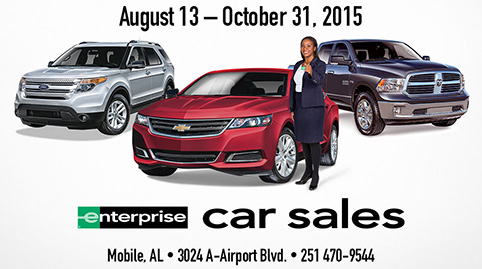 Enterprise $300 Visa Gift Card Promotion

Want a haggle-free buying no-pressure sales experience, from the world's largest fleet of vehicles, for a certified used vehicle? Look no further! Pen Air is teaming up with Enterprise Car Sales to give a $300 Visa® Gift Card1 for all members who purchase a vehicle from Enterprise Car Sales August 13 through October 31, 2015 and use Pen Air for financing
2
.
Imagine yourself in a warehouse with aisle after aisle of all kinds of "I can't believe what I'm seeing" high-end merchandise – flat screen TVs, laptops and notebooks, home theater systems, bicycles and appliances – all the kinds of things you would only buy if you won the lottery. Someone taps you on the shoulder and says "I'll give you 60 seconds to stuff as much of anything you see on these shelves into this shopping cart and it's all yours to keep – free!"

You don't have to just dream about such an opportunity. It could really happen to you!
Pen Air wants to give all of our CURewards
®
credit cardholders the chance to win a trip to Chicago for the most epic shopping experience of a lifetime.

It's called the Credit Union Magic Minute
TM
sweepstakes and here's all you need to do for a chance to win an all-expense paid trip to the Windy City and a place for you and a guest at the shopping line:

Register to enter the sweepstakes at

penair.org/MagicMinute

or

CURewards
1.
Use your Pen Air CU Rewards
®
Credit Card to make at least three purchases per week during any or all of the weeks between August 3 and October 25.
2.
Every time you use your Pen Air CU Rewards
®
Credit Card, your name will be entered in up to seven drawings to pick the winners from credit unions participating in the Magic Minute.
3.
The more you use your Pen Air CU Rewards
®
Credit Card, the more entries you'll have in the drawings, and the better your chances of winning.
Register now and start making a list of all the things you'd put into your cart! Check

CUMagicMinute

for complete sweepstakes details, rules and free method of entry.
1
Upcoming Events
» Sunday, September 6: Blue Wahoos Game:
Enjoy a home game sponsored by Pen Air.
» Monday, September 7: Labor Day
All locations will be closed.
» Thursday, September 10: Jeans For Generosity Check Presentation:
Join us at our 9

Mile Road location at 3pm as we present a check to the Bay Area Food Bank.
» Thursday, September 17: Car Buying Seminar:
Get a better understanding of the car buying process at our 9 Mile Road location from 5:30-6:30pm
» Friday, September 18: Gallery Night:
Come by the Palafox location and say hi from 5-7pm!
1
No Purchase Necessary to enter or win. Open to credit cardholders who are legal residents of the 50U.S., D.C. or Puerto Rico, 21 or older, who are enrolled in a participating Credit Union CURewards Program. Ends 10/25/15. Void where prohibited. See full rules & how to enter without purchase at

www.cumagicminute.com

. Sponsor: PSCU, 560 Carillon Parkway, St. Petersburg, FL 33716.
2
$300 Visa gift card will be issued by Enterprise Car Sales 30 business days upon purchase (or financing) of vehicle. Offer valid only on Enterprise vehicles purchased 8/13/15 – 10/31/15 and financed through Pen Air Federal Credit Union. Offer void when 7-Day Repurchase Agreement is activated. No cash advances. Cannot be combined with any other offers. Not valid on previous purchases. Used vehicles were previously part of Enterprise short-term rental and lease fleet or purchased by Enterprise from other sources including auto auctions, with previous use possibly short-term rental, lease or other. *Restrictions apply. For details, see an Enterprise Car Sales Manager. **Enterprise 12-Month Unlimited Mileage Roadside Assistance Package is provided by the American Automobile Association (AAA) and its affiliated clubs in the United States and Canada. The "e" logo, Enterprise, "The Perfect Used Car Package" and "Haggle-free buying. Worry-free ownership." are trademarks of Enterprise Holdings, Inc. All other trademarks are the property of their respective owners. © 2014 Enterprise Car Sales. F05381 EW DI 4/15 DB